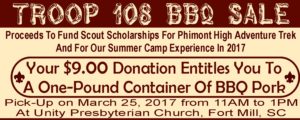 Several youth and adult members of Troop 108 will be traveling to BSA's Philmont Scout High Adventure Base in the summer of 2017.  Between the cost of the week-long rustic adventure, where the group will hike over 60 miles, and the cost of travel to and from New Mexico, it is nothing less than expensive.  But it is hard to put a price on the memories and experiences that will be made during this adventure. To help offset the cost of the trip the troop will be holding a pre-order only BBQ sale on Saturday, March 25th.
Pork can be purchased either by the pound or as a whole pork butt and both come with complimentary containers of our special BBQ Sauce.  We will have a window from 11am until 1pm when you will be able to come by Unity Presbyterian Church and pick up your purchases. While you're there picking up your BBQ we hope you'll take time to visit our model campsite and see what our scouts are doing.  Our scouting parents will also have many tasty dessert treats available to for purchase too.
Note that online purchases will have an electronic payment (Paypal) fee added in addition to the base donation price.  If you would prefer to be contacted to purchase in person from a scout, please contact Tim Whitesell at 803-984-1775
Click on the link below to place your order before March 21st.